Agency sponsors 13 employees to attend the conference
GREENSBORO, NC— SFW will serve as a sponsor of The 9th Annual Junior League of Greensboro's Women's Leadership Summit hosted on Mar. 29, 2019. The event is a half-day conference dedicated to developing women as leaders in the community.
"We are excited to participate in the growth of women leaders in Greensboro," said Leigh Maxwell, account coordinator at SFW and provisional member of the Junior League. "As a member of this organization, I am happy to share the community I have found in the Junior League with my coworkers."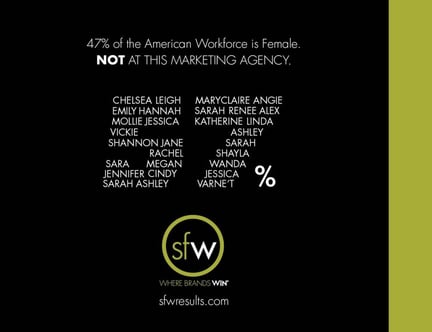 SFW's employee demographic is currently 57% women which is 10% higher than the America Workforce. SFW has 13 sponsored women attending the conference.
The Junior League of Greensboro is dedicated to promoting voluntarism, developing potential of women, and improving the community through action and leadership. This event will include panel discussions, networking opportunities, breakout sessions, and a keynote address.
The keynote speaker for the conference is Jess Ekstrom, founder and CEO of Headbands of Hope, an organization that provides headbands to children with cancer for every headband sold. Ekstrom will share her story with the women of Greensboro and discuss her concentration on increasing workplace engagement and employee empowerment.
"Events like this inspire and engage the next generation of women leaders," said Maxwell. "This is a great opportunity to embolden women at SFW and provide them with tools to take our agency to the next level."
SFW is committed to inspiring the next generation of women leaders and is excited to sponsor this event.