What do you get when retailers are locked in a fight to the death on price? How can brands stay profitable when the big box stores that stock them refuse to be undersold?
If you want to sell your products in the Midwest, you must enter the Triangle of Death — but fear not! Brands that treat this battleground as a growth opportunity and understand the rules of engagement will come prepared to take down the competition.
What is the Triangle of Death?
The Triangle of Death isn't a mythical place. It's defined by middle-America's big regional home improvement retail players: Menards, headquartered in Eau Claire, Wisconsin; Blain's Farm and Fleet, in Janesville; and Fleet Farm, in Appleton.
What these retailers have in common aside from their Wisconsin roots is their commitment to offering the lowest price, at all times. The fight for bargain supremacy can leave unprepared vendors in the crossfire, so success in this environment comes down to strategy.
If the retailers enter a downward spiral of retail pricing, the margin will be eventually removed from the product line and a vendor can risk losing share at these three retailers along with other big box retailers.
So, what can you do to prevent this spiral and increase share and sales? To survive the Triangle, you must understand the Triangle.

How does Menards do it?
Of all the players in this Triangle, Menards has a reputation for being the most value-driven. The retailer has even been known to fine its buyers if a product they manage is found to be priced above the market.
With 335 locations in 15 states, Menards plays a significant role in setting the pace on price with national big box stores like Lowe's, Home Depot and Walmart. Because Menards is privately held, however, it has a great deal of latitude in its approach to retail pricing.
Notably, Menards' buyers are unique in that they are less driven by gross margin dollars. This means that selling at low margins or in some cases, a loss, is part of a greater strategy that includes driving traffic and transactions. Unlike bottom-line-driven Lowe's and Home Depot, Menards is less interested in teaming up with vendors who bring unique IP, technologies or brand identities to the table. Its profitability comes from taking share with the lowest prices. Period.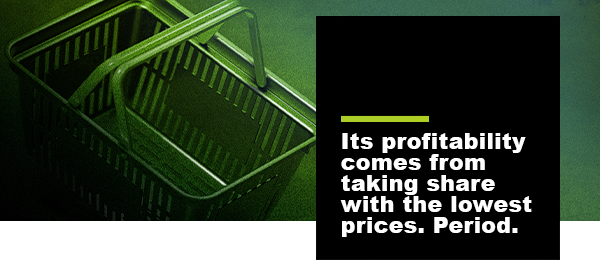 Pricing to win at Menards:
If you're trying to get a foot in the door as a vendor at Menards, or interested in selling in the Triangle of Death and a national retailer, remember that only fools rush in.
Here are a few important considerations that will ensure you're a contender in the Triangle and beyond.
1. Use discounts strategically.
As we've discussed, Menards' buyers' livelihood depends on their ability to offer the best price on a product. For this reason, they are very astute at determining invoice costs from retail prices on competitors' shelves.
To stay competitive, look for ways to use rebates, ad-allowances and other off-invoice discounts to incentivize volume without creating disparities in your retail price. Keep in mind that all retailers will expect a volume rebate, so leave room for growth now to protect your margins in the future.
2. Avoid fines.
Menards expects an on-time fill rate of about 99%, and has an elaborate and effective vendor fine system for supply chain failures. Service levels must be high and lead times must be met.
Be certain your logistics are up to par before approaching Menards and protect yourself from disruptions beyond your control. Make sure your up-front negotiations include forecasting and offer relief if the required information is not provided in a timely manner. Sometimes fines can be waived for a period of time until a track record and purchase history is built.
3. Recognize opportunities for newcomers.
Home Depot and Lowe's will often strike deals that use their vendors' full capacity to stock their shelves. Brands that don't yet have one of these partnerships with a national player can find it difficult to stake a claim as a category challenger.
Menards prides itself on its large SKU count, which serves as a lower-competition environment for newcomers. Brands that are willing to accept thinner margins in exchange for a growth opportunity may have a home at Menards. "Stack 'em high and watch 'em fly" is often used to ensure the lowest retail price —which starts with buying at the best prices. The buyer can commit to large quantities to get the price reduced.
4. Implement MAP pricing.
Establishing a MAP (minimum advertised price) protects vendors' margins and stabilizes the retail environment.
If you choose to implement MAP, it must be enforced. It's also best when done sooner rather than later — it's much easier to establish for a new or differentiated product than a well-known item with existing retail price disparities.
5. Differentiate.
A straightforward way to avoid competing with yourself on price is to circumvent one-to-one comparisons at different retailers.
Look for opportunities to offer different SKU numbers, multipacks, sizes, accessories or colors to keep your SKUs unique to each retailer. In some cases, alternate branding may be the best solution. This also applies to promotions: vary discounts, BOGO offers, and special inclusions across big box stores and rotate your promotional calendar.
Differentiate your offerings to establish pricing parity. If your largest account gets the lowest price on an identical item, you'll not only create friction with your other buyers, you'll lose share amongst customers at those stores when they turn to alternative products.
Like what you're reading?