In 2018, Adobe Analytics reported more than a third of online Black Friday sales were completed on smartphones. This year alone, it's predicted that we'll have almost 2 billion digital buyers worldwide. By 2040, researchers say that almost 95% of all purchases will be made online, according to NASDAQ. E-commerce is taking over. It's 2019. If we can grocery shop, buy an anniversary gift, or hell, send a birthday card from the comfort of our own home...we will. That's why Cyber Monday is on track to surpass Black Friday as the largest shopping day in the U.S.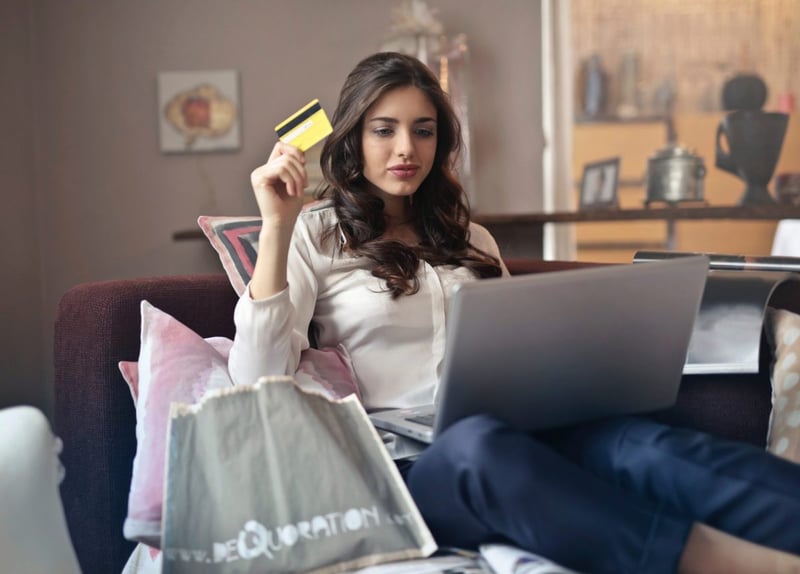 CYBER MONDAY 2018: THE NUMBERS
Cyber Monday began in 2005. It's since grown to be one of the largest shopping days of the year. In 2018, Cyber Monday broke records when sales met almost $8 billion, a nearly 20% increase from 2017, according to Adobe Analytics. Adobe's stats taken from 80 of the world's top 100 internet retailers showed a startling fact that put brick-and-mortar stores on edge. That is: purchases on mobile phones were up 55%, totaling $2.2 billion in sales.
The National Census Bureau recently reported that e-commerce sales growth increased up to 17% year over year during 3Q2019. That's the fastest growth seen in the US since 2011! Amazon, unsurprisingly, reigned supreme in the online sector. In fact, they captured almost half of the total U.S. e-commerce in 2018—not limited to Cyber Monday. The company also had a record-breaking Cyber Monday, which turned out to be its biggest shopping day to-date.
As for brick-and-mortar stores, a popular retail tracking firm, ShopperTrak, found that store visits were down 1.7% on Black Friday. They also found that visits were demonstrating a year-over-year decline of 1%. That might not sound like an incredible loss, but the e-commerce sales versus in-store sales do speak for themselves: shoppers are turning to the digital shopping experience.
EMBRACING CHANGES
What's particularly interesting is that popular brick-and-mortar stores, such as Target, Macy's, Kohl's, and Walmart, aren't fighting this revolution. Instead, they're investing in their online presences to make them better, more efficient, and more enjoyable. Smart move, considering that 80% of online shoppers stopped their business with a company because of a poor customer experience, according to HubSpot.
The option to "click and collect" or buy online and pickup in-store, was up 73% this year, according to Adobe. This is due to large brands understanding the wants and needs of their changing consumer. However, they haven't given up on physical store visits just yet.
According to CNBC, some stores have invested sizeable amounts of money into improving their mobile apps in hopes of luring customers. Walmart, for instance, has implemented a digital store map to make Black Friday shopping trips more accessible. And, those stores that provided a "click and collect" option did so in hopes that their customer would purchase more upon arrival.
NOW MORE THAN EVER
As we approach what analysts hypothesize will be the largest Cyber Monday since its creation, it's important to consider how smaller brands can hop on the train. Now more than ever, having an online shopping presence will be a deciding factor in your consumer's action.
SFW has a Digital team that understands the e-commerce market in real-time. Our e-commerce abilities transcend what a "normal" advertising agency can accomplish. We're adapting to stay efficient in an everchanging consumer environment, as well as tracking the online market trends of your category. That way, we can strategize accordingly through various online channels, such as:
Item Setup – we optimize product titles, descriptions, and bullet points to be consumer-friendly while optimizing for SEO. We also emphasize the importance of imagery, consumer education content, and consistent iconography.
Advertising – this includes Amazon sponsored products and brand units, social media advertising, social media store setup, linking product catalogs to social media shopping, and more.
On Amazon, we utilize AI software to optimize hourly bidding on keywords to keep your products at the forefront of searches. Since the research shows that mobile transactions are increasing, this is more relevant than ever before.
Reporting & Channel Strategy – we manage online pricing for brands to keep them competitive with brick-and-mortar stores and other e-commerce channels. Most importantly, that includes maintaining the "buy box."
The world is past "transitioning" into a digital sphere—it is a digital sphere. And with that kind of fast-paced marketing, your brand has to keep up. SFW has the capabilities in place to help brands win at retail, at brick-and-mortar stores, and especially in e-commerce. So, if you're ready to optimize your brand's digital strategy, drop us a line. We're here to help.