When we're not helping brands win, we uphold a responsibility to give back to our community.
CREATEATHON
Every single year, we stay awake (and creative) for 24 hours to help make assets for both national and local non-profit organizations. It's the best all-nighter we could ever ask for.
We are now accepting applications for remote CreateAthon 2021, which will look a little different this year.
Transcript:
Ged King:
"CreateAthon was started right after 9/11 because we all wanted to figure out a way to do something to say that the United States is great. We worked really hard and gave back and the idea was to show how great American business can be and how great American people can be and also to just say thank you to our community for all the fortunate things that have happened to us. We've worked historically for big and small non-profits. One of my favorites is the Jimmy V. Foundation. I went to NC State and just being able to work with the Valvano family to help fight cancer was really important to me and my brother personally and so we always look for those and we always look for little non-profits that really need more help than others. So, this year is no different: we're working for Smart Start, which is a great organization that helps feed children and we're also working for Hannah's Haven and other smaller non-profits that maybe people haven't heard as much about...we want to bring it all out and make it really big and public for everybody."
Dave Geren:
"CreateAthon is a lot of fun but it's a lot of hard work too. It's a really cool opportunity to apply all of this hard work that we're doing day in and day out to some real world things that are making a real difference in the community: helping them drive their causes. And while it's a lot of hard work, it's also a lot of fun: we get to hang out together, we get to have great food, we have nerf gun wars and things like that where we get to go outside and have a little fun to keep it light. So, it's a fun day, it's a hard day but it's worthwhile when you see the impact it's gonna have on the community."
Jessica Holke:
"Well we're getting down to the last final hours and we're moving along really great, the day's been good. We've got brochures printing, we've done some flyers, we've done logos, we've done posters, we've eaten a lot. We're getting ready to print and people are folding, so...home stretch!"
Peter Mitchell:
"This is my fifth CreateAthon. It's something I honestly dread every year coming into it...then you get here and it's exciting so it's a real rush and it's just a very exciting thing to be a part of, so go Sales Factory!"
Thanks to our entire team at Sales Factory, we produced around $250,000 worth of work for the non-profit organizations involved in this year's CreateAthon. Going the distance for the greater good. Sales Factory CreateAthon, Greensboro, NC, Dec 6 2018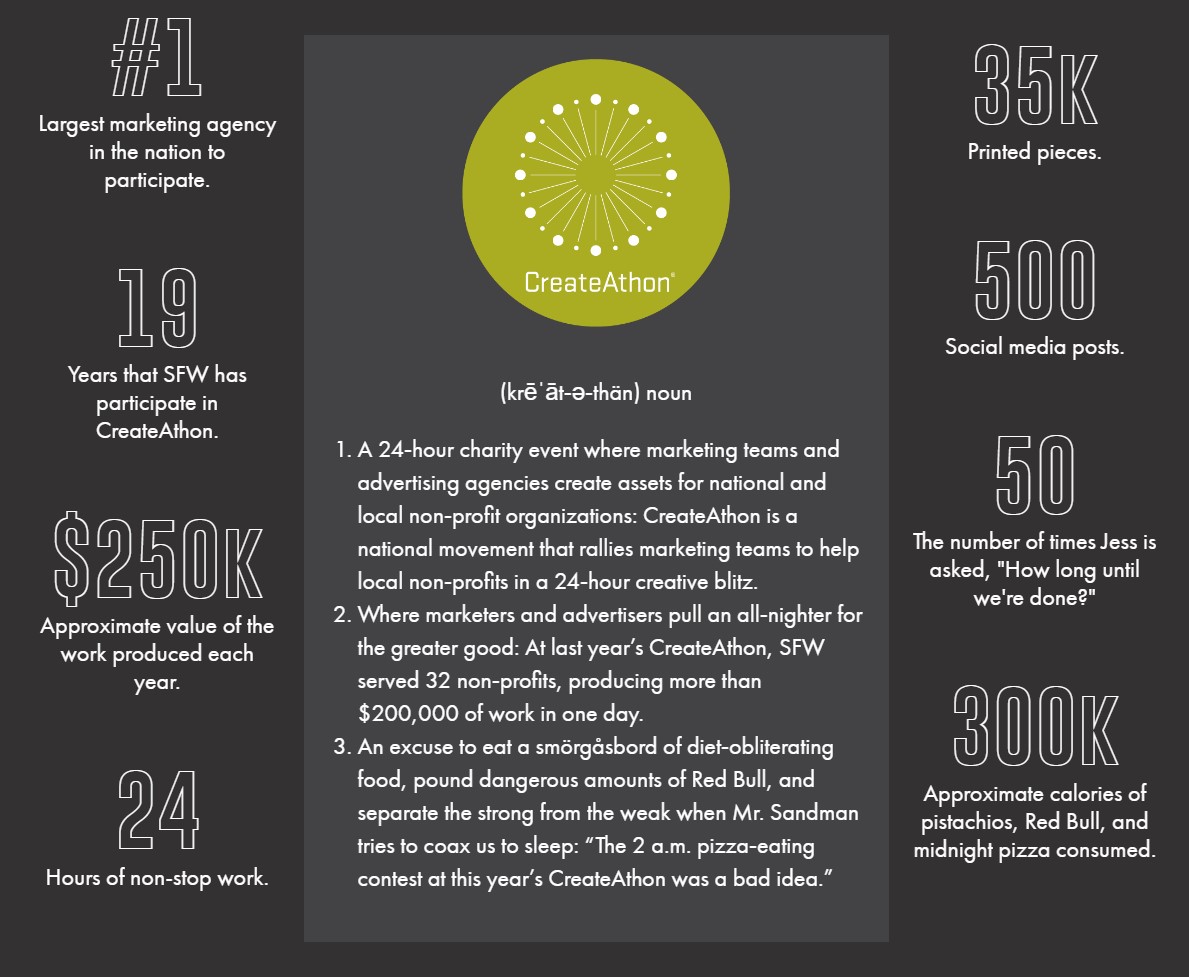 These are some of the nonprofits we've helped.
BIKE TO WORK WEEK
In 2019, Sales Factory participated in our 7th annual Bike to Work Week, celebrating National Bike Month and Bike to Work Day. Collectively we rode a total of 3,309 miles and raised thousands of dollars towards the JDRF Ride to Cure Diabetes this fall. Cycling is an integral part of the Sales Factory culture and serves as a catalyst for wellness, culture, and teamwork.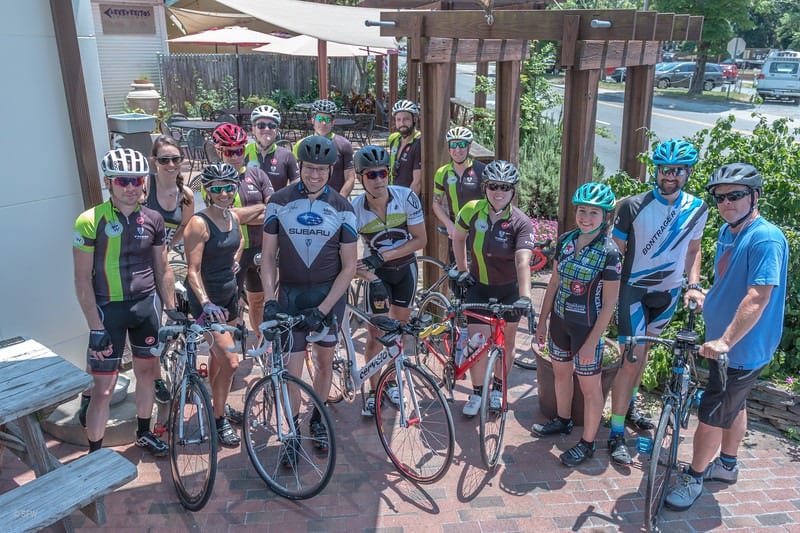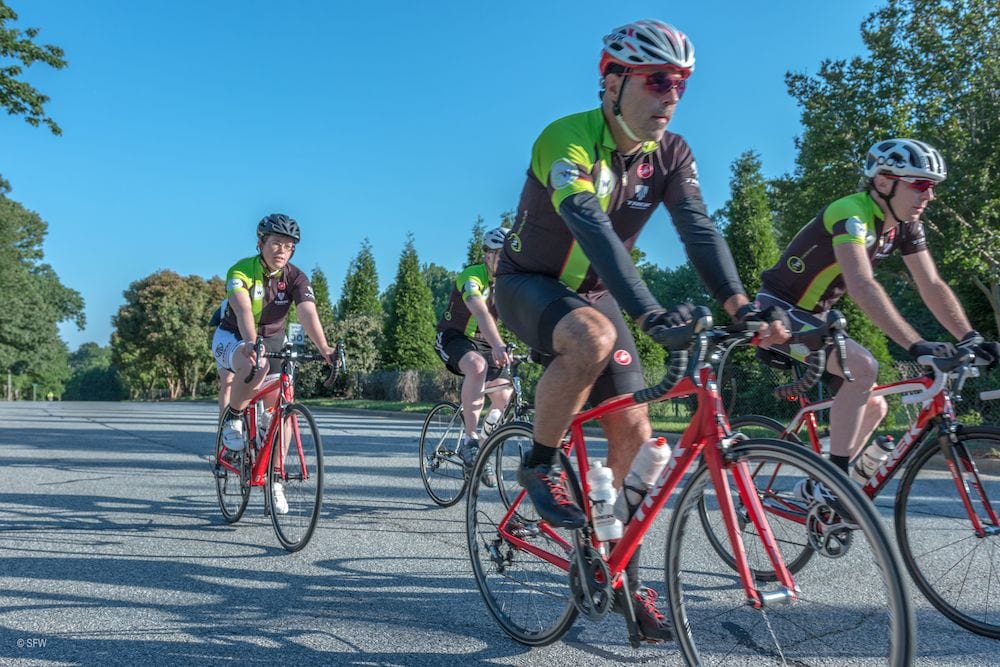 REELIN' FOR RESEARCH
Sales Factory is an annual sponsor for the Reelin' for Research fishing tournament, which has helped raise over 3.6 million dollars for the UNC Children's Hospital and childhood cancer research. Last year Sales Factory had two boats participating in the event and additional volunteers running the weigh-in. We also created the programs, signage, PR and social media for the event, as well as digital scoreboards and a landing page.