Durham, NC —Sales Factory Chief Marketing Officer, Matt King, and EVP Director Accounts, David Geren, provided their perspective on the Lowe's/Craftsman brand licensing agreement, and implications for the home improvement category at the annual meeting of the Hardware Marketing Council on May 30.
"Craftsman is a fascinating brand with such a great heritage associated with Sears," said King. "The question now is whether that selling power will remain intact in an entirely different retail environment. Lowe's is certainly banking on it."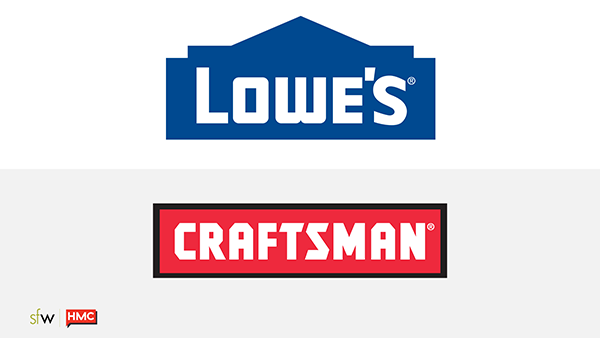 Stanley Black & Decker purchased the Craftsman brand from Sears for a reported $900 million in 2018 and then licensed it to select retailers including Lowe's. "We believe this is an excellent opportunity to invest in, re-Americanize and revitalize this legendary brand, ramp-up product innovation and broaden its distribution," remarked SB&D CEO James Loree after the sale.
The stakes are high for other hardware manufacturers who have counted on Lowe's as one of their most important outlets, and who now fear being left out of the new product line up at retail due to 'The Craftsman Effect'.
"Craftsman is impacting Lowe's product assortment and everybody is scrambling to retain a piece of the pie," said Geren, who spent nine years at Lowe's as VP Marketing before joining the Sales Factory team. "Our presentation offered advice and perspective to help Hardware Council members proactively prepare and, if necessary, defend their brands and product lines in the face of the Craftsman threat."
The Sales Factory team fielded questions on its recent Home Improvement research study and core tenets of successful product line reviews, an Sales Factory specialty. Approximately 60 Hardware Council members attended the presentation.
About Sales Factory:
Sales Factory is an insights, strategy and activation agency that has been helping brands win in retail since 1984. Headquartered in Greensboro, NC, with offices in Raleigh and Charlotte, Sales Factory is one of the fastest growing B2C & B2B marketing companies in the Southeast and was featured recently in the Path to Purchase Institute's Shopper Agencies To Watch. Sales Factory's client experience includes national and global companies such as Channellock, Kohler, Char-Broil, GE, Johns Manville, Fruit of the Loom and Primo Water.
About HMC:
The Hardware Marketing Council (HMC) was organized in 1971 by a group of marketing professionals representing leading manufacturers in the home improvement category. The organization's "founding fathers" included senior sales and marketing executives from leading name brand companies. Today, the organization gathers annually to hear industry leaders speak on relevant topics to ensure members keep pace with the rapidly changing trends within the industry.