GREENSBORO, NC— Each year SFW participates in Bike to Work Week during National Bike Month. This year, SFW rode a total of 3,309 miles, shattering last year's record of 2,400 miles.
"Bike to Work Week is something our company looks forward to every year," said Ged King, CEO of SFW and dedicated cyclist. "This is our ninth year participating, and I am beyond thrilled with the participation and energy our employees brought this year."
SFW took Bike to Work Week to the next level by fundraising for diabetes research. Throughout the week of May 13-19, SFW employees cycled their way to and from work, participated in the Ride of Silence, attended cycling classes, and rode to Raleigh from the Greensboro office.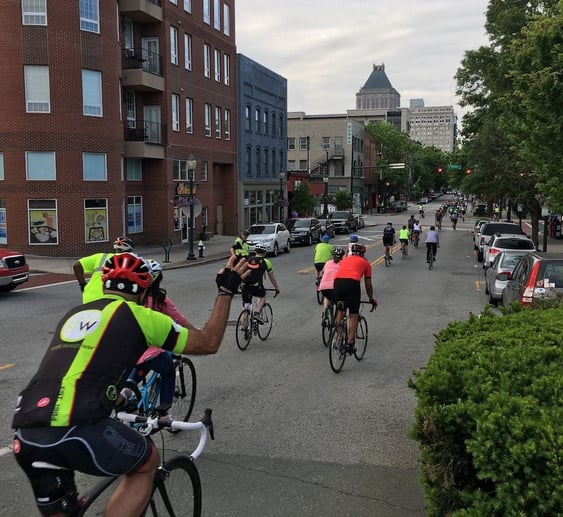 "Bike to Work Week gives our company a chance to come together, have fun, and make a difference," said King. "We make a point to talk about health and wellness and bike safety during this week. And have a little friendly competition."
In a competition to ride the most miles with the Cycle Loft in Greensboro, SFW won by more than 50 miles.
During this week, employees and SFW clients generously pledged money per mile to donate to diabetes research. Through donations, SFW raised over $8,000, which is dedicated to the JDRF Ride to Cure Diabetes in October of 2019. Each mile made a difference in raising money for a cure.
SFW is the JDRF Piedmont Triad chapter's first corporate sponsor, partnering with the organization for the JDRF Ride to Cure, benefiting type 1 diabetes (T1D) research. Participating cyclists at SFW and the Piedmont Triad JDRF chapter will train together for the 100-mile Amelia Island, Fla. ride on October 3-6, 2019.
From now up until the Ride to Cure event, SFW will be raising money for type 1 diabetes research. To donate to the SFW team, visit the SFW team page.