The marketing industry changes constantly. Imagine spending more than 38 years in the business, each year presenting more unique challenges than the last. For Peter Mitchell, the President of Sales Factory, it's easy because he lived it. From his time at Saatchi & Saatchi on Madison Avenue in New York City to Sales Factory on Carolina Street in Greensboro, North Carolina, Mitchell has seen it all.
Recently, he announced his retirement from his day-to-day operations at Sales Factory at the end of 2019. That's more than three decades of strategic, passionate work coming to a close. So, we thought we'd pick this marketing mastermind's brain about the industry, now and then.
THE EVERCHANGING MARKETING INDUSTRY
Sales Factory: For 38 years, you've worked full-time in marketing firms. Those of us who know the industry might call you crazy for it. What kept that passion alive?
PM: I love this business. I love the intersection of marketing, writing, working with clients, and working alongside account, creative, and digital people. And, I love the youth and energy of our business. I love the environment and the different cultures that you experience on the agency side. All of the strategy and brand positioning was what attracted me to it.
A DIFFERENT KIND OF AGENCY
Sales Factory: How is Sales Factory different than other firms you've experienced, like Dancer Fitzgerald Sample, Jordan McGrath Case & Taylor, and Saatchi & Saatchi?
PM: We've got many people who come from different perspectives. Our strength is in our diversity of experiences. We have a high school math teacher, people who come from academia, and people who worked on the client-side. Sales Factory isn't just a bunch of agency-track people like most firms. Yet, we're still in the business of solving client problems.
Sales Factory: How do you think that kind of diversity benefits Sales Factory?
PM: The fact that we have people who worked in home improvement retail gives us the edge to look at things from the client's perspective. If you just have a bunch of really creative agency people, you lose the other side of it and you can only make guesses. Having several members of our leadership team who have been merchants or brand managers has helped us become more customer driven.
FOR THE NEW GENERATION
Sales Factory: After so many years of working in the industry, what advice do you have for someone who's just starting their career in marketing and advertising?
PM: There's a lot that hasn't changed, so know those timeless principles of what makes brands work. What is the brand all about, and where does the consumer weigh in? Pursue the next big thing while applying these principles. Understand that there's no such thing as a big, but safe, idea— that the brand stands for something bigger than the product itself or service it provides. Use that curiosity and willingness to learn from the last 50 years of the business.
Sales Factory: Has working at Sales Factory changed your perspective on advertising and marketing firms?
PM: I was used to a process where five smart people would sit in a room and figure brands out. We'd put together a brief and the brand would be off and running. Sales Factory takes a more inductive approach. We don't know what we don't know. We say, "Let's go find out." We explore, observe, research, and we do our homework. That lets us be consumer centric.
I really believe in lifelong learning. As President at Sales Factory, I've learned a lot about understanding the consumer and retail orientation. I'm well-equipped to go into my teaching career more well-rounded than just a big-brand, big-agency person.
TIME AT SFW
Sales Factory: What was the most interesting account you've ever worked on and why?
PM: Several of us at Sales Factory worked with a Dutch consortium that wanted to revitalize the demand for flower bulb purchases in North America. It was like a "Got Milk?" campaign with 30 different clients who we had to bring together. That was 10 years ago, working in global respect. It was the dawn of social media and digital marketing and had much more sophisticated public relations. We learned a tremendous amount in that experience and as a plus, we got several trips to Amsterdam!
Sales Factory: What about a recent Sales Factory account?
PM: I would say Primo® Water has been an interesting brand. It's water…how hard could it be? But it turns out there was a lot of complexity and nuance around how to get people to change their behavior, suddenly ditching their tap water and going to Walmart to buy 5-gallon bulk water. That assignment was challenging for the agency, but rewarding. We really used our brand building techniques to find this "daring protector" stance and put our retail prowess to work.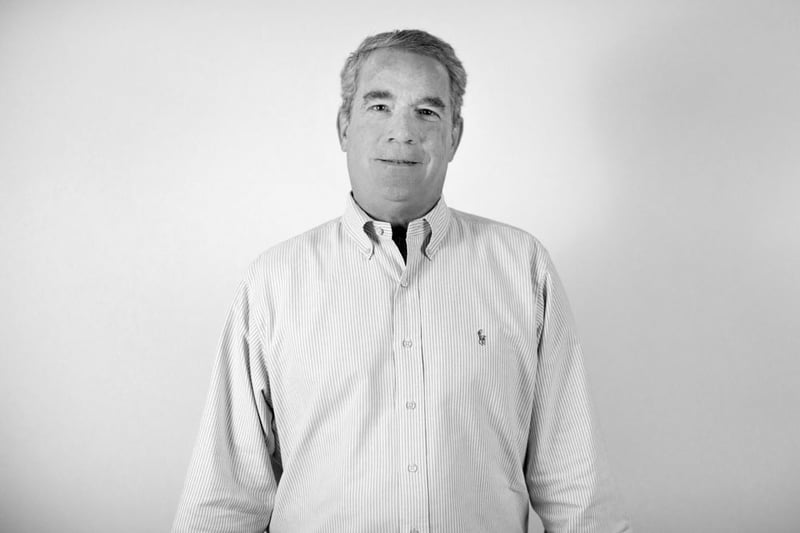 Sales Factory: Do you have any advice for Sales Factory moving forward?
PM: Become even more focused on the things we do extremely well. Clients are buying specialist agencies, not generalist agencies. Identifying the two or three things that Sales Factory does better than anybody in the world is going to be the thing that keeps the company top-of-mind for clients that are searching.
ONWARDS AND UPWARDS
Mitchell's Sales Factory story doesn't end here, as he will remain on staff at Sales Factory as Senior Advisor. He also plans to devote more time to his other passions, such as teaching, guiding, and mentoring. That's why he'll continue to pursue his role as Adjunct Professor of Practice at Wake Forest University in the Communications and Journalism Departments and in the School of Business, a role he's filled since 2009.
And, Ged King, CEO of Sales Factory, said this about Peter: "Peter has made so many valuable contributions to Sales Factory and our clients during his time here, and has been invaluable in helping the agency grow over the past six years. We have a culture that values learning, and Peter has used his extensive marketing and advertising experience to teach our next generation of leaders. Peter is a good friend, and he will be missed."