Your point of sale (POS) data is one of the earliest and best indicators of how your program is performing at retail. These numbers tell a story — sales and marketing professionals are tasked with reading between the lines and finding explanations for unexpected results.
When you're confronted with disappointing POS data, it's time to get curious and investigate the underlying reasons why. Stay vigilant about these red flags in your sales report, and you'll turn issues into crucial opportunities for growth.
1. Your zero sales report.
If you're seeing zeros in your POS data, launch an investigation right away. An absence of sales often points to a problem with an easy solution if it is addressed quickly. To get the full picture, look at your zero sales report from a few key angles:
The store level.
Is the drop-off in sales specific to one particular store? Is it part of an ongoing pattern of issues, or a sudden change? When a product that typically sells through suddenly stops moving, there is a good chance that an inventory or downstocking issue is to blame.
If the problem lies with a specific location, make time for a store walk — it's the best way to find out first-hand how your products are actually being merchandised in the aisles. Can't get there right away? Give the department and store managers a call.
The regional level.
Zero sales reports that hit an entire region of your sales territory probably aren't isolated to your retailer.
Consider whether anything significant is happening in that geographical area that might impact consumer behavior broadly. Local events and even unusual weather patterns can send a ripple through your POS data. Isolating a probable explanation for any changes can help you respond quickly and stay ahead of the competition when things are in flux.
The SKU level.
If a particular SKU isn't selling, it's time to consider making changes to your line assortment.
Analyze demand and stock the shelves with products that are responsive to shoppers' needs. Resist the urge to try to reverse-engineer demand by including products that just aren't moving.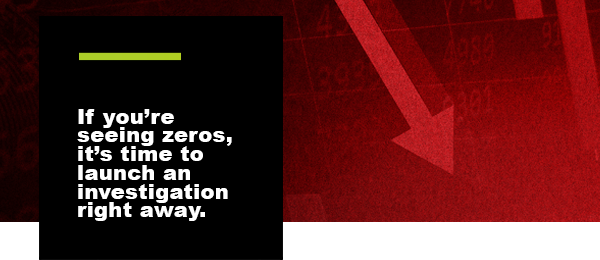 2. Lackluster results from marketing initiatives.
If you've put effort into a new marketing or merchandising campaign, your POS data should reflect a payoff.
Whether you've set out to reach a new audience or grow your online presence, the proof is in your sales. When the numbers don't support your initiatives, it's important to dig deep and reevaluate your strategy. Your POS data can alert you to the existence of a problem, but you'll need to invest in consumer research in order to identify exactly how and why you've missed the mark.
3. Faltering on your merchant's KPIs.
Know your merchant's specific goals for your program inside and out. Work together to establish measurable objectives, and keep them at the forefront of your mind when you evaluate POS data.
Maybe your merchant is focused on customer acquisition, margin dollars, turns or straightforward sales — your data can let you know where you're knocking it out of the park and where you may be falling short. Keeping a bird's eye view of how you're tracking for specific targets gives you more time to recognize troubling trends and right the ship before your program is in jeopardy. A proactive mindset is key: never wait for your merchant to approach you about issues in your POS data.
Work with your merchant to decide what a healthy program looks like, and if any aspect of your sales report seems misaligned, give it the attention it deserves. Keep your eyes peeled for red flags, and let them guide you toward solutions.
Like what you're reading?