If you haven't noticed, this little thing called the internet has expanded considerably over the last decade. And in that time, the world has transformed into an internet culture of various forms, the most popular of which is social media. And as we navigate those waters of social media, we're faced with an ever-changing market with its ever-changing consumers.
In a sense, the internet is the red carpet, you are the celebrity, and those hundreds of branded social posts are the paparazzi. Look over here! Look over here!
The good news is one of the top-10 reasons someone uses social media is to research new products to buy. Even better, social posts are tailored to each individual viewer. Simply put: there's much less for you to sift through, and what's left is there because it's probably right up your alley.
But like anything on the internet, it's an uphill battle. Luckily, SFW has systems in place to make sure social media isn't left to memes and the like. Anything from Facebook headers to Google advertisements and every blog post in between, SFW has got it handled one way or another.
Earning Impressions
According to Hootsuite, there were 4.021 billion internet users in January 2018. That's over half of the world's total population. Out of those 4 billion users, 3.196 billion were active on social media. Long story short: there's a lot of untapped advertising and marketing potential and using social media as a vehicle for discovery is now key to well-vetted business strategies.
It's a good thing that companies are starting to notice how valuable social media can be to their brand and their efforts. In fact, social media advertising budgets are predicted to increase by 32% this year and double by 2023.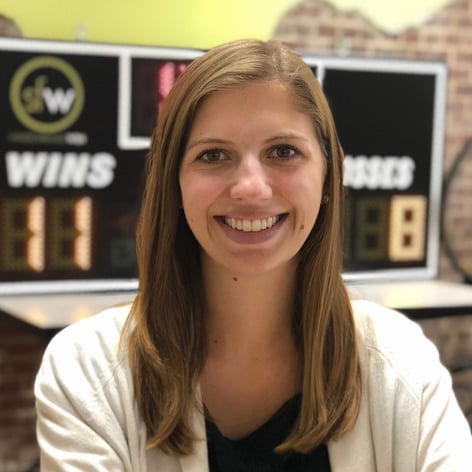 We say this to merely put into perspective what we (as an advertising agency) are dealing with when it comes to our clients. Internet space is getting thinner and thinner, and it doesn't seem to be stopping. But viewers are clicking. But, they just know what to ignore and what to take seriously.
SFW takes social media seriously because we know how crucial it is to make a brand feel less like a company and more like a friend.
"The most important part of my job is making sure we create strategic and relevant social media content and ads for each of our clients," says Jessica Amberg, social media coordinator for SFW. "Every brand has a different story to tell through social media and every brand tells that specific story in a different way."
Amberg manages some of our largest clients' social media channels, including SFW's LinkedIn, Facebook, and Instagram.
"For social media success, I have to effectively communicate the right message on the right platform at the right time for the right audience," Amberg states.
She's right. There's a lesson to be learned in building a community through social media. Sometimes it's not all about the buying. Sometimes it's about making that connection with a consumer that'll keep them coming back for more. Sometimes, it's as simple as communicating effectively and being accessible.
Ironically, even we need to keep our presence online, and not just for our clients.
"It's important to build out a social media presence for SFW because it shows off our company culture, everyday life, and the projects we work on," says Amberg. "Different people end up on our social media for different reasons, so we need our social media to be transparent and speak to who we are and what we do."
The Takeaway
There are lots to see on the internet. Whether it's a paid promotion or something you happen to stumble upon, opportunities present themselves to consumers to take action every day. For our clients, we help them convey what they do, why they do it, and why it matters. Social media has given them a platform to join in on the conversation. And as we've learned, consumers are all ears.