Marketing Agency Reflects on Highs, Lows and Newfound Momentum
Can you remember where you were and what you were doing five years ago?
In the marketing and media world, Vine had just launched, Twitter was still limiting tweets to 140 characters and we had all just watched the final episode of The Office.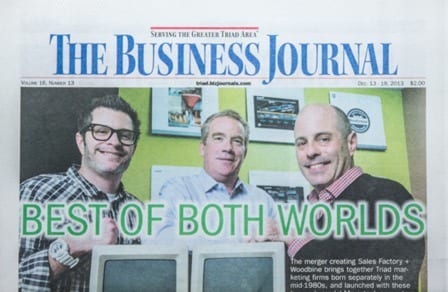 In the Triad, a new marketing company was born on Jan. 1, 2014 out of a merger between Greensboro-based The Sales Factory and Winston-Salem's Woodbine Agency. Woodbine brought its reputation for creative brand-building to the party while The Sales Factory supplied the research-based insights and passion for the retail marketing environment. The new agency adopted a not-so-catchy interim name, Sales Factory + Woodbine, and 37 people piled into The Sales Factory's offices at 1301 Carolina St. in Greensboro.
Everything looked great on paper and the media touted this merger as the Best of Both Worlds.
So, how has it worked out five years later?
Growing Pains
"Week one was really hard. I left for the weekend wondering if I could come back into the office on Monday," recalls CEO Ged King. "Marketing agency environments are fluid, to begin with, but try doubling in size in one day, combining two very different cultures and trying to bring order to chaos. I'm an engineer by trade and knew that integration of two very different playbooks was going to be job one for the new company to succeed."
The Sales Factory had previously acquired a small PR agency, Leapfrog Marketing, and a small creative shop, The Design Group, to bolster its capabilities, but the Woodbine acquisition was much more challenging. The first year was difficult internally as Sales Factory + Woodbine sought its new identity and position in the market. Many staffers associated themselves with either the Sales Factory or Woodbine sides instead of embracing the bigger, better yet different company.
We've Got This!
Meanwhile, the business itself was performing well as clients appreciated the agency's combined capabilities and its art + science approach. Char-Broil, Inc. named SF+W its Agency of Record in late 2014 across its grills and accessories business. Then Winston-Salem's T.W. Garner Foods assigned the launch of its new sriracha sauce, CHA! on top of SF+W's other Texas Pete creative and media responsibilities. Its blue-chip client list also included Fruit of the Loom, Empire levels, Lorillard, Wake Forest University and others.
Sales Factory opened up a Raleigh office on Centennial Campus at N.C. State to be in the state's technology and research epicenter and to help talent recruitment efforts.
Through 1Q 2015 CFO Rob Cates announced that SF+W was on target for its biggest and best year in its 30-year history, with over $10 million in gross billings. The agency was on a roll and on March 4, 2015 (March Forth!) unveiled a new brand name and tagline: Sales Factory. Where Brands Win, along with a redesigned website, www.sfwresults.com.

"We shortened our name and distilled the essence of what we do for clients into a simple, truthful, powerful promise," said president Peter Mitchell, who led the rebranding initiative. "Unlike any company I've worked for, Sales Factory really is all about results. We keep score on our campaign successes and failures and even offer clients an option that puts part of our compensation at risk. We only win if you win."
The Perfect Storm
Little did the leaders of newly minted Sales Factory know what lie ahead beginning the second half of 2015 through 2016:
Longtime client Empire Level Co. was acquired by Milwaukee tools. Sales Factory dismissed as the agency of record.

Lorillard, Inc. was acquired by Reynolds American. Sales Factory no longer needed to manage youth anti-smoking campaign, Real Parents. Real Answers.

Char-Broil names new V.P. Marketing. Sales Factory responsibilities were phased out.

T.W. Garner Foods suspended national marketing spend to focus solely on store-level programs. Sales Factory services no longer needed.

Carolina Bank was acquired by First Bank, whose agency assumed all responsibilities

Zeus Industrial Products decided to take marketing function in-house.
"Could we have done some things differently, moved more quickly to avoid this? Sure," recounts King. "But most of these setbacks were beyond our control. We can't control a family company's decision to sell or control a new V.P Marketing's decision to bring in a new agency partner."
In the wake of these developments, layoffs were necessary and internal confidence and morale were at a new low. By 2017 full-time employee headcount was down to 30 from a high of 44 as the leadership team met offsite to design a strategic growth plan for the future.
A Return To 'Why'?
A lifelong learner himself, and along with Mitchell, an adjunct professor of marketing 'on the side' at Wake Forest University's School of Business, King believes putting talented people into new positions 'beyond what it says on their resumes' is a good thing for organizations. "Changing things up keeps people fresh, challenges them, helps the agency see things from a new perspective," he says.
To help jumpstart Sales Factory's rebound, King hired Lowe's Marketing V.P. David Geren, to lead Account Management. Principal Matt King became Sales Factory's Chief Marketing Officer, focusing solely on new business. Sage veteran Rick McCarthy took the reins of the research & insights team. Mitchell took on PR and Content Marketing responsibilities alongside Creative Director and V.P. Vickie Canada. Sales Factory's staff would need to become younger, faster, more versatile. And more digitally driven, under Digital Director Emily Bratton's example.
Geren led the leadership team through an exercise to uncover the agency's unique purpose, it's 'why'. Why are we in business? Why do we come to work each day? Why should a prospective client or a talented writer or website designer choose Sales Factory?
It became clear that Sales Factory's purpose today stems directly from founder George King's vision for the agency 35 years ago. Ged and Matt King's father was a marketing executive with Black & Decker, famous for being on the team that developed the iconic Dustbuster™ brand. King was hard-working, multi-talented, curious and observant of the world around him. He didn't like the way New York ad agencies operated—too quick to develop the creative idea before really understanding the consumer's problem, more focused on awards instead of business results, poor stewards of the client's budget.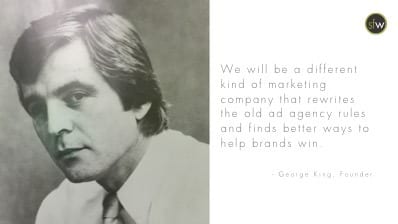 King left the security of corporate marketing and took a risk by starting The Sales Factory in Greensboro, N.C. in 1984. He would challenge the ad agency business model because the 'product' The Sales Factory delivered to its customers would be sales, not expensive, overproduced, ineffective marketing without any accountability.
To drive revitalization, Sales Factory would need to refocus on retail and the consumer's path to purchase. It needed to be more selective about the kind of clients to pursue. It needed to recapture its imagination and curiosity and its passion for finding better ways to solve clients' most pressing business issues. An updated value proposition articulated Sales Factory's true, authentic, unique swing.
Back On Track
The company has taken Sales Factory's purpose and brand positioning to heart, demonstrated by improvements in its internal teamwork and quality of its client relationships. Over the past year, Sales Factory has hired 19 new employees across all disciplines, increasing its full-time staff by +32%. There have been no significant client departures.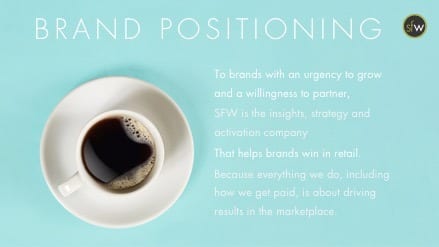 Its client roster has grown significantly in stature and Sales Factory is creating wins in the market for clients with a creative product that can compete with any other agency in the Southeast.
Winning the Channellock, Inc. account in early 2017 ignited the turnaround. A five-generations, family-owned company, Channellock tools have been manufactured in Meadville, PA, since 1886. Americans believe American-made tools are higher quality and more durable but only 39% of DIYers and Pros are aware that Channellock brand tools are made in the USA. They believe brands like Milwaukee and Stanley are made here when in fact they are manufactured overseas. We needed to set the record straight to reclaim the made-in-the-USA high ground.
Sales Factory's Built Strong. Works Hard. Won't Quit. an integrated campaign for Channellock has done just that through new retail packaging and merchandising, digital and traditional advertising, updated website, PR, social media, cause marketing, internal communications, and video content. The centerpiece of the campaign is a three-part mini documentary series showing where Channellock, Inc. comes from and the people that make it great. The Place, The Plant, and The People series powerfully demonstrates what it means to be made in the USA.
"The way Sales Factory uncovered the essence of our brand and then converted that insight into marketing programs that impact every consumer touchpoint has been impressive," said Jon DeArment, President and Chief Operating Officer. "They truly go above and beyond and have been an amazing partner for Channellock."
Clearly, the next chapter in the Sales Factory story looks to be very, very bright.
"I like where we are, but I like where we're headed even more," King reflected. "As challenging as putting two companies together has been, we are in a much better position today as a company and much better equipped to help brands win which, as you know, is what we like doing most."
SFW Five Years Later Highlights
Channellock, Inc., one of the most revered tool companies in the U.S., hired Sales Factory in 2017 as its Agency of Record for all consumer and trade marketing.

Primo Water Corporation, the market leader in home water dispensers and bulk water refill and exchange, hired Sales Factory in 2018 as its Agency of Record for market research, brand strategy, retail marketing and creative.

GE (Momentive) Sealants & Adhesives retained Sales Factory in 2018 for all brand, product, and retail marketing.

Acquired The Russell Agency, Winston-Salem, in 2017.

Added 18 full-time employees in the past year and now have 50 full-time employees

2018 gross revenue +30% compared to a year ago.

Sales Factory served more nonprofit organizations than ever before during its annual 24-hour marketing marathon called CreateAthon in 2018.