The current situation:
According to the IRS, the average refund so far this year is $2,903. This is down about 11% from last year's average, based primarily on pandemic-era benefits that have expired. Our Consumer Pulse results show that 58% of respondents have already filed their 2022 returns, and 86% have either received or plan on receiving a refund.
What consumers are thinking:
Our Consumer Pulse report found that 12% of respondents plan on using their tax refund for home improvements, making it the top use of funds after covering everyday expenses and putting it towards general savings. Here's how they plan on using their refunds for home improvement and maintenance:
38% plan on improvements exclusively to the inside of their homes.
20% will make improvements exclusively to the outside of their homes.
42% will make improvements to both the inside and outside of their homes.
Detail on the types of planned indoor and outdoor projects can be found in our Consumer Pulse report.
The Outlook:
70% of homeowners are planning on making home improvements or doing seasonal maintenance in the next few months, regardless of whether they receive a tax refund or not. But the boost provided by tax refunds could provide a much-needed lift to home improvement brands and retailers.
Do you want to take the Pulse of your customers? Our Insights team will partner with you to design a study that will help you better understand your customers and their problems, and how your brand can win at retail.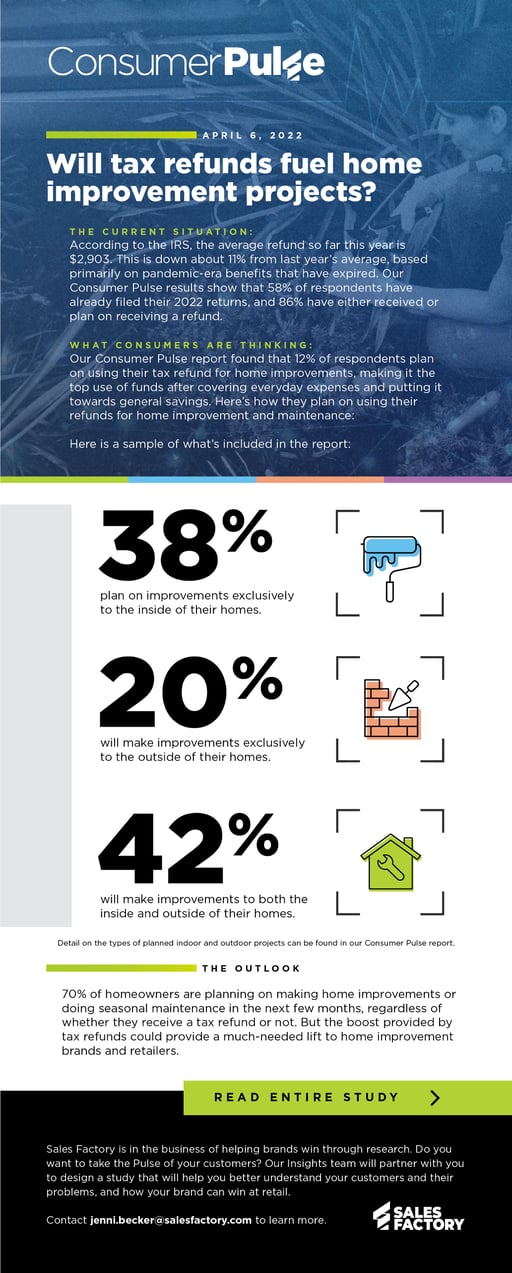 To get additional insight into what this means for brands and retailers, read the entire study.
Like what you're reading?