The current situation:
According to the National Centers for Environmental Information, the first 3 months of 2023 have been the 23rd wettest since 1895. The most extreme examples are the dozen atmospheric rivers in California that have dumped nearly 28" of rain in L.A., and the recent flash flood in Fort Lauderdale that produced nearly 26" of rainfall in one day. And here in our home state of North Carolina, only 4 of the first 15 weekends of 2023 have been dry.
What consumers are saying:
Our Consumer Pulse report found that 52% of respondents that plan to do work in and around their homes this spring and summer will need to purchase one or more tools to get the jobs done. Some of the tools that homeowners need to purchase include the following:
67% will need a new hand tool (e.g., pliers, wrenches, hammers).


59% will need an outdoor hand tool (e.g., pruner, lopper, shovel).


64% will need an outdoor power tool.
Detail on the types of planned projects and the retail locations most likely to be shopped can be found in our Consumer Pulse report.
The Outlook:
86% of homeowners plan to do work in and around the home this spring and summer, and the wetter-than-normal start to 2023 may have delayed the timeframe to get their outdoor home improvement projects started. But for now, the wet weather has not seemed to dampen our interest in improving and maintaining our homes and yards.
Do you want to take the Pulse of your customers? Our Insights team will partner with you to design a study that will help you better understand your customers and their problems, and how your brand can win at retail.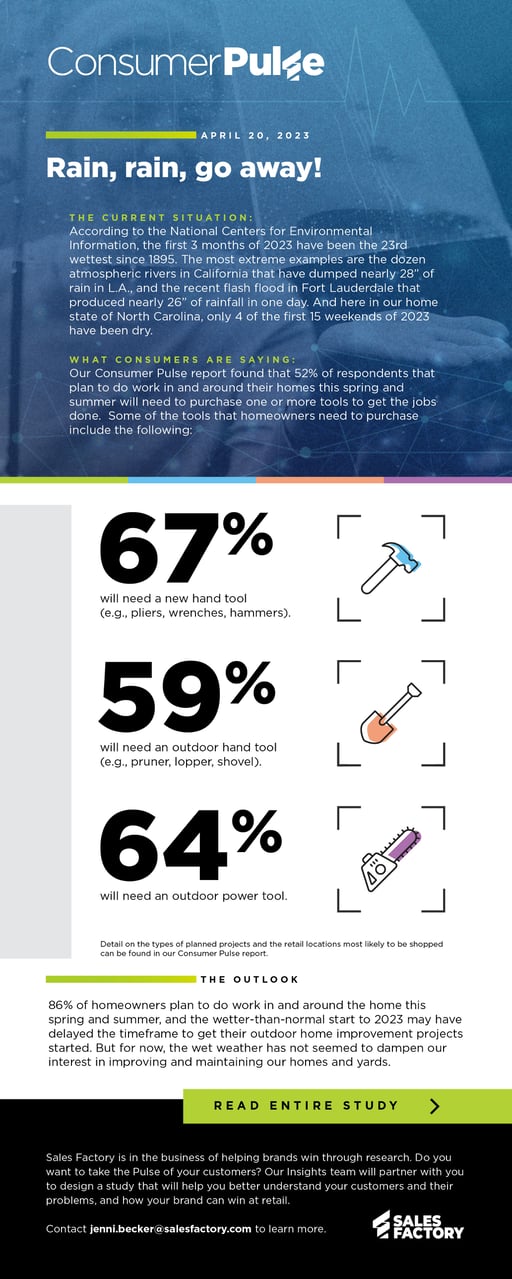 To get additional insight into what this means for brands and retailers, read the entire study.
Like what you're reading?