The current situation:
According to Brand Finance's 2023 ranking of the 500 most valuable U.S. brands, six retailers were in the top 50: Amazon (#1), Walmart (#5), Home Depot (#8), Costco (#14), Lowe's (#27), and Target (#36). Strong retailer brands provide a halo effect for the products they carry, with 62% of respondents in this week's Consumer Pulse saying they trust their favorite stores to only carry good quality products.
What consumers are saying:
Our Consumer Pulse report for this week dives into consumers' decision-making processes, including attitudes toward national and house brands, the influence of ratings and reviews, and the use of social media as a source for product information. Here are a few highlights from this week's Consumer Pulse:
45% of consumers say they try to buy well-known, national brands.
70% agree that house brands are generally a good value.
69% will take a risk by trying a new brand.
43% believe price is a good indicator of a product's quality.
The Outlook:
Our results found that there are significant generational differences in how consumers learn about and shop for products, including attitudes toward national brands, willingness to take a risk on a new brand, relying on ratings or reviews, or using social media for product information. Having a deep understanding of your prime prospect is vitally important in developing effective brand-building strategies and in moving them through the purchase funnel as efficiently as possible.
Do you want to take the Pulse of your customers? Our Insights team will partner with you to design a study that will help you better understand your customers and their problems, and how your brand can win at retail.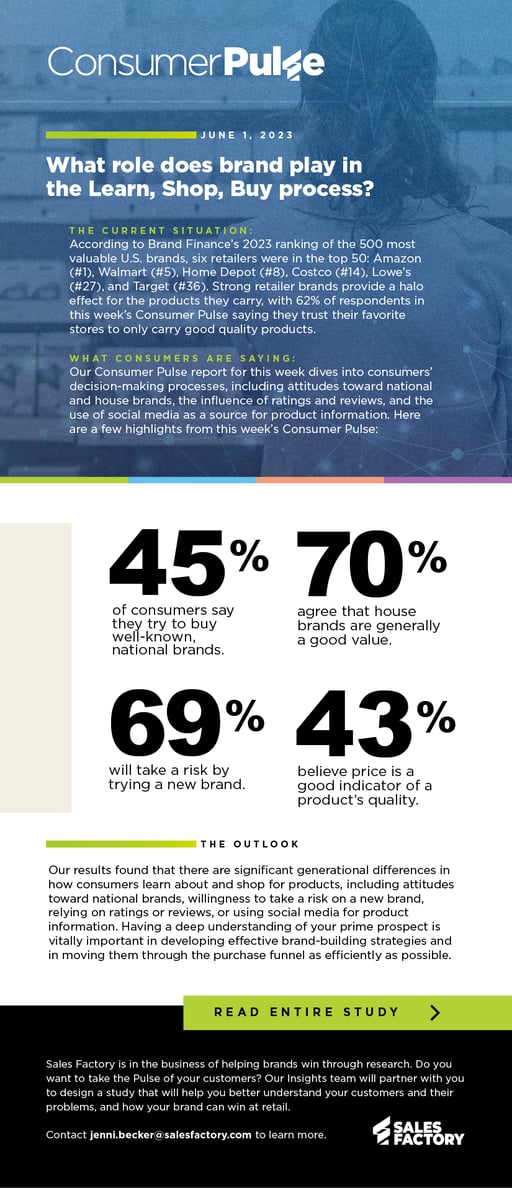 To get additional insight into what this means for brands and retailers, read the entire study.
Like what you're reading?