The current situation:
Many manufacturers have been passing on higher inflation-driven manufacturing costs to consumers in the form of price increases. Procter & Gamble raised prices by 10% in the March quarter, which is on top of a 10% increase in the December quarter. In the fourth quarter of 2023, PepsiCo raised prices by 16% and Unilever raised prices by more than 13%. But the pressure to reduce prices will be strong if the economy enters into a recession. How consumers respond to both price increases and decreases is the topic of this week's Sales Factory Consumer Pulse.
What consumers are saying:
Our Consumer Pulse report found that 90% of respondents are watching the prices of everyday items closely. Approximately one-third of respondents have noticed price decreases in categories they frequently purchase, such as groceries and personal care products. Here are a few highlights from this week's Consumer Pulse:
• 76% have changed products and/or brands to save money because of inflationary price increases.
• 58% say that falling prices have resulted in changes to the products and/or brands they buy.
• 62% say they are waiting for prices to come down before making a major purchase.
• 55% don't expect prices to decline over the next 6 months.
The Outlook:
While predicting a recession is about as precise as predicting the weather, most economists put the odds of the U.S. entering a recession at about 65%. Understanding how your consumers will react to pricing decisions on your products is crucial as the economy pivots from inflationary increases to potential recessionary decreases.
Do you want to take the Pulse of your customers? Our Insights team will partner with you to design a study that will help you better understand your customers and their problems, and how your brand can win at retail.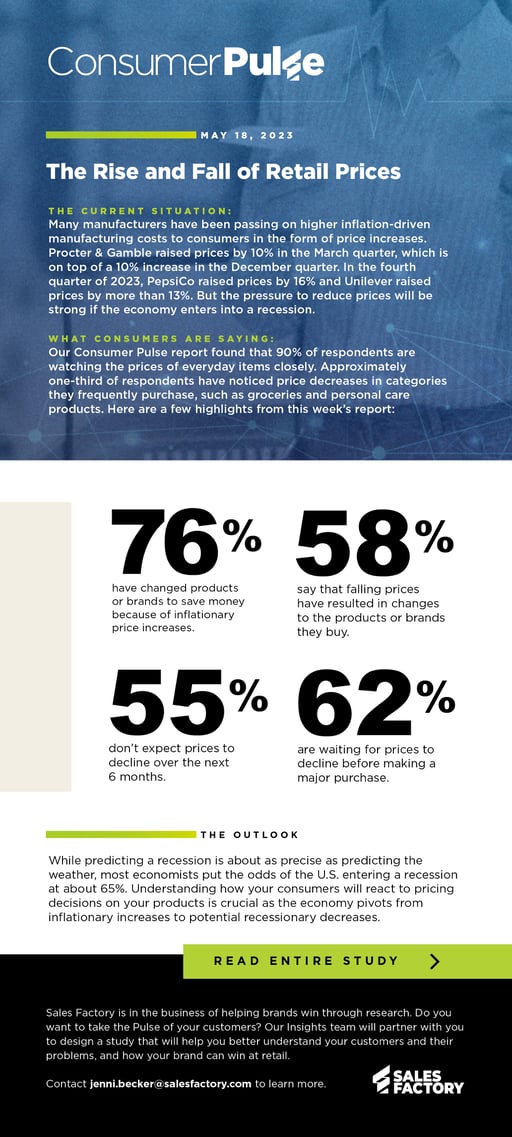 To get additional insight into what this means for brands and retailers, read the entire study.
Like what you're reading?