The current situation:
According to projections by the Leading Indicator of Remodeling Activity (LIRA), which is published by the Joint Center for Housing Studies of Harvard University, remodeling expenditures will see a modest decline of 2.8% in the first quarter of 2024 compared to 2023. This is consistent with what both Home Depot and Lowe's reported during their recent Q1 earnings calls, where they said that they are seeing home improvement projects changing from large-scale remodels to smaller ones.
What consumers are saying:
Our Consumer Pulse report for this week looks at home improvement demand based on plans and projected timing for both large and small projects. Here are a few highlights from this week's Consumer Pulse:
43% of homeowners said they had a major renovation planned for the past year that they did not complete.
64% of these homeowners said they completed smaller projects instead.
74% cited inflation as a top reason for putting off a major renovation.
The Outlook:
Home Depot and Lowe's saw declines in big-ticket comps in the recent quarter of 6.5% and 7.7%, respectively. The good news is that 66% of homeowners say that they are planning on a major renovation, which is a positive indicator of future demand. The goal for brands and retailers is to adjust marketing and promotional plans that are reflective of homeowners' current appetite for smaller projects.
Do you want to take the Pulse of your customers? Our Insights team will partner with you to design a study that will help you better understand your customers and their problems, and how your brand can win at retail.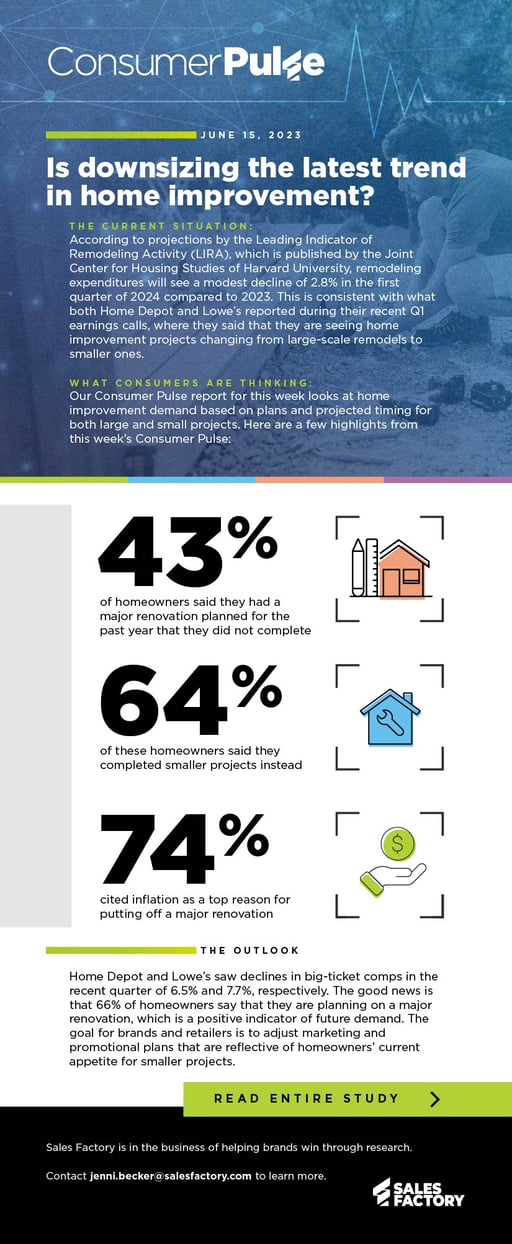 To get additional insight into what this means for brands and retailers, read the entire study.
Like what you're reading?