The current situation:
The housing market has been on a record streak of 130 months of year-over-year price increases; however, the level of increase has been moderating. According to the National Association of Realtors, the median existing-home sales price was $366,900 in December, which is 11% lower than June's record high of $413,800.
What consumers are thinking:
This week's Pulse found that 59% of current homeowners expect the price of their home to stay the same or drop in 2023, potentially signaling an end to the streak. Although decreased prices combined with easing mortgage rates may lure buyers back into the market, inventory remains tight – and some homeowners may not be willing to list with prices lowering.
Our report this week focuses on housing and consumer spending related to homeownership.
21% of future homebuyers plan on buying in 2023
40% of potential sellers think they will spend $3,000 or more to get their home ready for sale
73% of homeowners feel their home needs minor or major improvements
The Outlook:
The buying and selling of homes are significant drivers for the home improvement category, and both will be under pressure due to the current economic conditions. Even general home repair could be stressed as many people decide to forego routine maintenance or take on home improvement projects.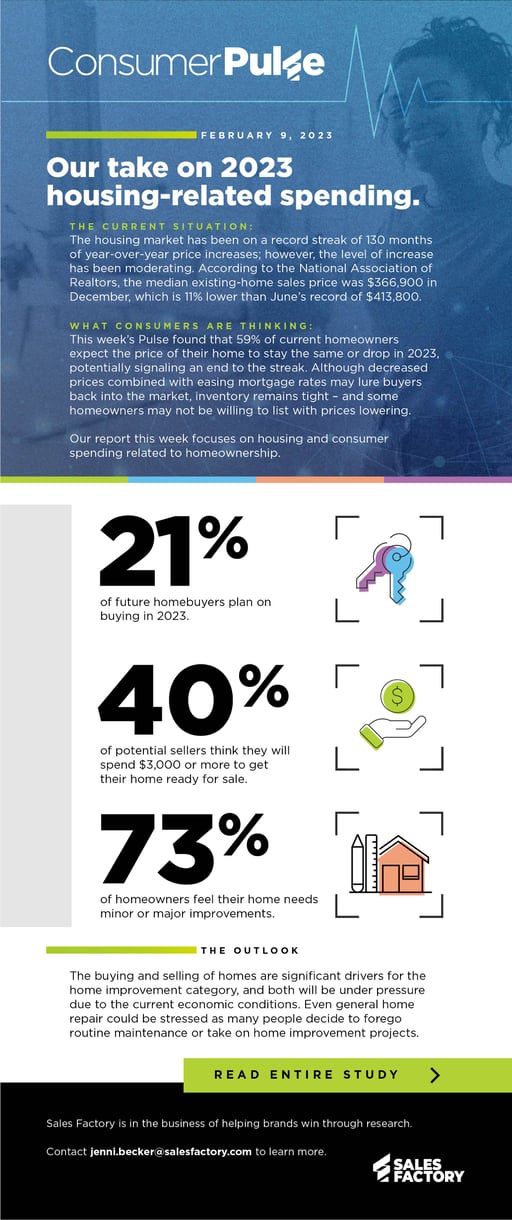 To get additional insight into what this means for brands and retailers, read the entire study.