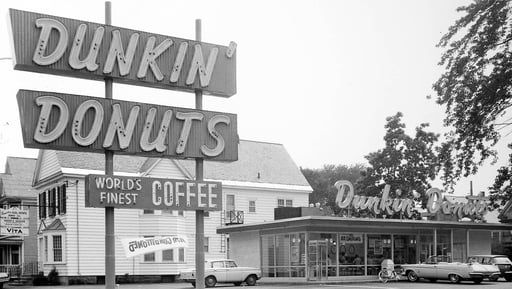 In 1955, the average cost of a new house was $10,950. The first McDonald's restaurant was built. We had finally created a safe and highly effective polio vaccine thanks to Jonas Salk. "Gunsmoke" made its debut on CBS. And one more thing—America was just starting to run on Dunkin'. Dunkin' Donuts, that is.
Drive-by Brand History
What started in 1948 as "Open Kettle," a donut and coffee restaurant in Quincy, Massachusetts, would soon become an empire of coffee and donuts with over 12,600 locations across 46 countries. Its founder, William Rosenberg, would soon make his first rebranding move, renaming the restaurant "Dunkin' Donuts" in 1950. By 1955, the restaurant would begin to franchise and grow to over 100 shops in just one decade.
Times Were A-changin'
But like many things in the '50s, such as the Jitterbug and poodle skirts, new trends began to emerge over the next few decades. New generations prepared to take over the previous. For most brands, it was the technology boom of the 2000s that would change the marketing and advertising landscape forever. Things were getting faster and sleeker. Dunkin' Donuts, and other brands alike, heeded the generational warning: times were changing, and they could either get with it or get out.
So, they started focusing on being an on-the-go brand that prioritized premier beverages and serving them fast. Besides, in this new generational climate that valued energy and wellness above all, coffee would prove to be their bread and butter.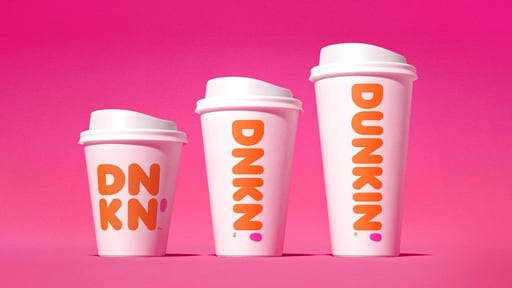 "

D

unkin'

Donuts

"

No More
Fast forward to 2018. Dunkin' Donuts had called themselves just that for over 50 years. But like many companies, they had their sights set on growth. And what a better way to do so than target what 2018 audiences wanted most: convenience and simplicity. Besides, their entire rebrand was fueled by the demands of today's on-the-go customer. And what they wanted most was coffee.
So, they nixed "donuts" from their name altogether. Even though they are the most popular donut retailer in America, having "donut" in their name was putting them into one small, stifling box. Given that their slogan boasted, "America Runs on Dunkin'," it wasn't a difficult change. Alas, "Dunkin'," it became. But they didn't leave all of their goodies behind, as they maintained their iconic pink and orange Dunkin' font they've heralded since 1973.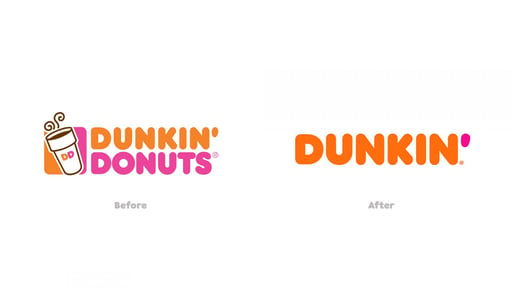 "By simplifying and modernizing our name, while still paying homage to our heritage, we have an opportunity to create incredible new energy for Dunkin', both in and outside our stores," said Tony Weisman, Chief Marketing Officer, Dunkin' U.S.
Catering to Consumers
Among the rebrand, Dunkin' simplified their menu, emphasized quality beverages like cold brew coffee, nitro coffee and iced teas, introduced unique products like "donut fries," touted their on-the-go mobile ordering (since digital ordering has grown 300% faster than dine-in traffic since 2014), and introduced a next-generation design concept, sure to capture the Millennial, on-the-go consumer eye.
Part of this blueprint for a more innovative, trendier Dunkin' experience included a tap-system for cold beverages allowing employees to serve guests like bartenders, a glass bakery case for emphasizing donuts, a prominent mobile-order pick-up area, and a mobile order drive-thru lane.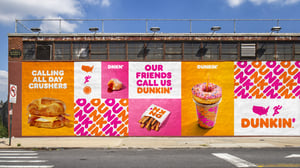 This strategy targeted the everchanging terrain of consumer habits, where 60% of U.S. consumers order delivery or takeout at least once a week. And, considering that it's predicted that smartphone ordering will become a $38 billion industry by 2020, it's a smart strategy, indeed.
"Our new branding is…part of our blueprint for growth to modernize the Dunkin' experience for our customers," said David Hoffman, Dunkin' Brands' CEO and Dunkin' U.S. president. "We are working to provide our guests with great beverages, delicious food and unparalleled convenience."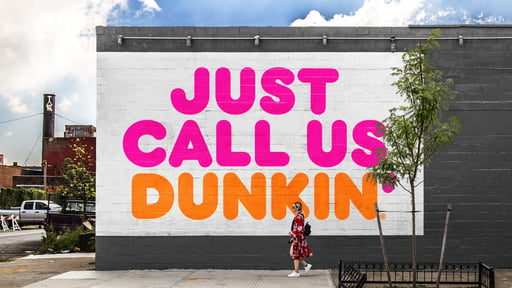 But this rebranding is just as much about how it makes consumers feel as it is about fiscal growth. According to Weisman, the bold new name helps bring to life the optimism of each cup served and brings delight to their customers every single day.
Where Brands Win
When you listen to the wants and needs of your prime prospects, you'll learn a lot about where your brand can go and how much it could benefit you to go there. As of January 2019, Dunkin' decided they could stand alone without calling out donuts, knowing that their reputation for incredible donuts would be enough. And though Dunkin' isn't a client of ours, SFW can certainly respect all the hard work they put into improving their brand presence.
Here at SFW, we're constantly tackling re-brands for our clients, where we completely overhaul the communication to their consumer, albeit in-aisle or online. By using our talented insights team, we're able to gather research about each brand individually to figure out what's going to work best and how we can make that happen.
When you're rebranding, there is so much to consider: research, branding, content, creative, digital, retail…the list goes on. Luckily, when you choose to work with SFW, we have all of those services under one awesome roof. Need a brand refresh or wanna start from scratch? Reach out to our new business team to get started.