The current situation:
Consumer spending increased by a seasonally adjusted 1.8% in January, the largest increase since March 2021. When adjusted for inflation, consumer spending increased by 1.1%, which was also the biggest increase since March 2021. According to the Commerce Department, spending on goods grew by 2.8% while spending on restaurants, bars, hotels, and travel rose by 1.3%. But what are consumers prioritizing going forward – spending on goods or services?
What consumers are thinking:
This week's Sales Factory Consumer Pulse found that more Gen Z and Millennial consumers are saving for travel or other major purchases than their older counterparts. And when it comes to tradeoffs, more consumers have put off travel-related spending to make a major purchase compared to those that have delayed a major purchase to pay for travel.
Our report this week focuses on how consumers are approaching spending decisions for future travel and major purchases. Here is a sample of what's included in the report:
15% want to say bye-bye, saving for a trip or event but not a major purchase
15% are saving to buy-buy, only putting money away for a major purchase
41% are saving for both a trip and a major purchase
The Outlook:
There is still pent-up demand for travel based on plans that have been disrupted by the lingering effects of COVID – 68% of those that have experienced a travel disruption have yet to complete some or all of the travel they had planned. And the home improvement industry should benefit from the fact that the younger generations are more likely to be saving to buy a house, while the older generations are saving to make a major home improvement.
Do you want to take the Pulse of your customers? Our Insights team will partner with you to design a study that will help you better understand your customers and their problems, and how your brand can win at retail.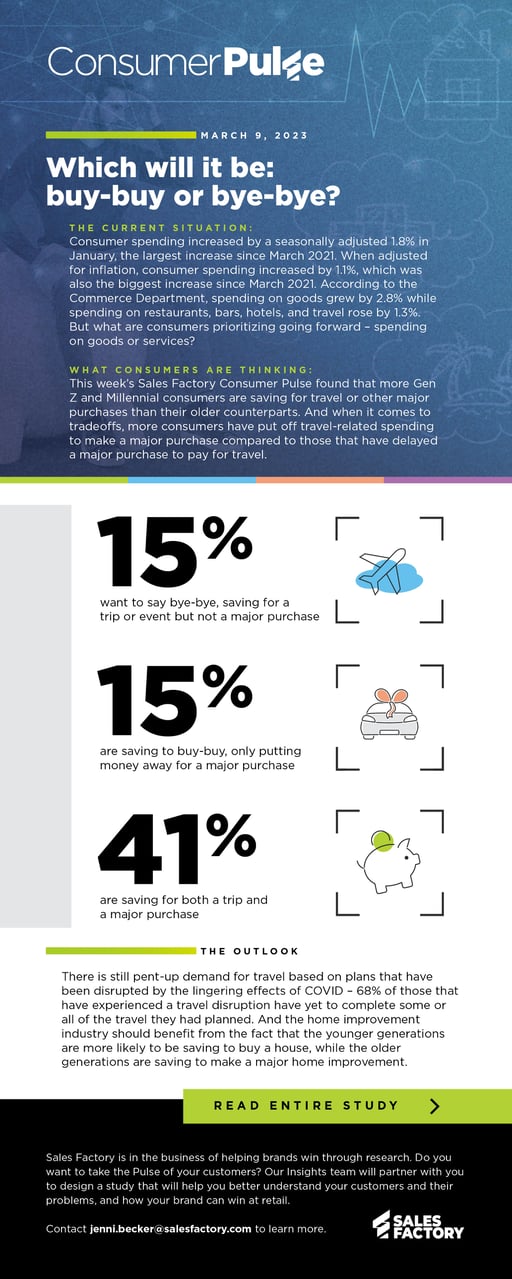 To get additional insight into what this means for brands and retailers, read the entire study.